Completed Project
FoBi 2 - the digital form for registering for further education and training events
On 11 January 2021, the second version of the digital continuing education programme for TU Dortmund University employees went online in the ServicePortal. After exactly three years, this marks the completion of another milestone in the registration pages for the continuing education programme.
What has happened so far: In mid-2016, the Human Resources Development department submitted an application to the itmc for the development of a "Software FoBi / App of the TU". It quickly became clear that such a programme should be realised by CC Development at the itmc. At that time, it was decided to split the project into two parts:
FoBi 1
The first part of FoBi consists of the editorial system for creating the event schedule and ends in the process with the registration for the event. Here, a PDF was generated, which had to be signed and sent to the further and continuing education department via the official channels. Fobi 1 went online on 4 January 2018.
Project Duration
January 2018 - January 2021
Project Description
The second part now continues and builds on FoBi 1. The applications are no longer printed out and signed. Instead, a digital workflow starts, which is submitted in SAP to the supervisor for approval in the same way as a leave request. FoBi 2 directly generates attendance lists for the individual events. In the process, back-up lists for overbooked courses are managed. Participants can (and should, if necessary) cancel their attendance up until shortly before the event. The introduction of FoBi 2 thus simplifies the administration of further education and training courses. The sometimes rare places at sought-after dates are reserved directly at the time of registration.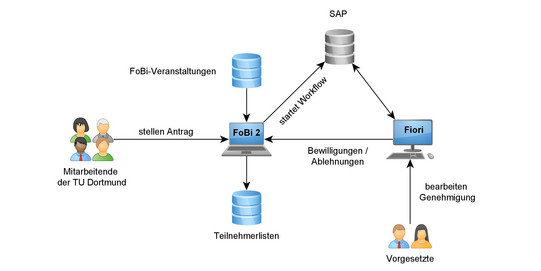 From a technical point of view, the ITMC is entering new territory with FoBi 2.
FoBi 2 starts in the ServicePortal and manages the events (FoBi 1) and the attendance lists there. The approval workflow is initiated from there in SAP. The result of the workflow is then evaluated again in the ServicePortal.
Christian Brenner, head of personnel qualification, comments as follows: "The registrations in Fobi 2 are transparent and fair. The generation of certificates of completion for further education and training, attendance lists, etc. have become much easier for us. Digitalisation has made us much faster and more flexible, while also saving (paper) resources."
FoBi in the ServicePortal (TU Employees only)
Project Management (Technical and Professional)